Many people suffer from dry skin, whether from the cold dry air of winter or the summer heat, dry skin is a common struggle for most people.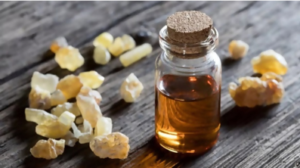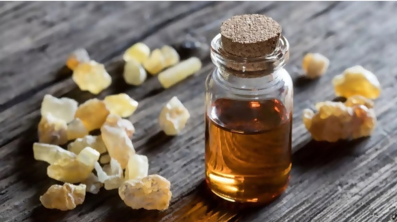 Studies have proven that frankincense essential oil helps with combating dry skin as well as alleviating stress and pain. When used as an ingredient in skin care products, frankincense essential oil is a great way to treat dry skin and reduce the appearance of wrinkles, age spots and stretch marks. Known as the "Holy Grail" of essential oils, frankincense offers restorative and regenerative properties for the skin. Not only does it help reverse damage caused by UV rays, but it also rejuvenates skin, eliminates scars, and evens out blemishes.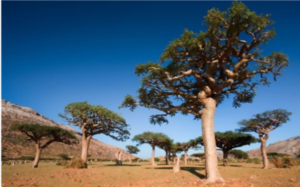 This enchanted oil comes from dried sap of trees in the Boswellia genus that are grown in Oman, Yemen and the Horn of Africa, including Somalia and Ethiopia. When dried, the sap is burned as incense, turned into an oil, among a plethora of other uses.
Though, there are various methods in which you can apply frankincense to your skin, this oil can be used topically on the skin when diluted with a carrier oil. Frankincense essential oil is commonly used in skin care and beauty care products. This is not just because of the pleasant scent it gives off. The essential oil can strengthen skin health and add elasticity to the skin. Most importantly, it does this all while providing the same antibacterial and anti-inflammatory benefits!
This essential oil provides a range of anti-aging benefits and can eliminate wrinkles, and as mentioned before, fading stretch marks and healing cracked skin. Additionally, there are many other impressive benefits that frankincense essential oil offers, including, but not limited to improving memory and cognitive function, balancing hormone levels, improving sleep quality, and alleviating pain.
If you want instant results in rejuvenating your skin, start by using products that have frankincense in the ingredients. Once incorporated into a daily skincare routine, it can drastically change the way your skin looks and feels! If in need of a new way to rejuvenate your skin visit Lea Advanced Skincare. There, Lea herself will be able to give you a custom anti-aging facial or acne treatment that incorporate frankincense at her Spa located in Beverly Hills.
Leave a Comment
You must be logged in to post a comment.