Lea's favorite ingredient is Green Tea and it's not hard to see why. It is one of the ingredients in her Eigard Essentials skincare line, including her Antioxidant Scrub, which she uses as a part of each of her facial treatments in her Beverly Hills skincare salon.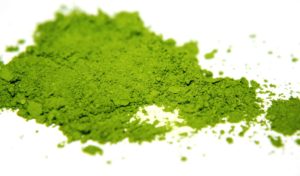 Green Tea contains powerful antioxidants called polyphenols that neutralize free radicals, slow down signs of aging and minimize wrinkles while firming and toning skin. It also has anti-inflammatory and anti-cancer properties that calm the epidermis and dermis by reducing redness and swelling (edema). Its anti-cancer properties are what reduce irregular cellular growth and keeps the skin healthy, firm, soft and smooth.
Green Tea also contains an amino acid compound that has a calming effect on the nerves by reducing tension held in the skin. Another helpful component of Green Tea is Vitamin K. It protects the skin from aging, the development of wrinkles and sagging and reduces the loss of elasticity. It is wonderful for healing bruises and repairing broken blood vessels and helps the body with the re-absorption of blood leakage, mostly under the eyes (dark circles).
Tips on how to use beauty products containing Green Tea:
• Because Green Tea is a natural ingredient, the product should be stored in a cool environment. Large amounts should be placed in a refrigerator. You can take out smaller amounts for personal use if preferred and place in a sterile jar.
• Do not put your fingers into the product as it can easily be contaminated. Always use a spatula or product spoon to remove it and clean all implements after use.
• Never expose it to direct sunlight or keep it in a hot place, for example your car.
• Travel with cooler bags to preserve freshness. You'll never go wrong if you treat your product like you treat fresh produce.
• Read the ingredients label when dealing with natural ingredients. If you're allergic to certain foods your skin will react negatively to those same ingredients.
• Always apply product to clean skin. Skin should be properly prepped in order to see results.
• Washing with warm water will especially prepare skin for better absorption by breaking the tension in the skin.
• Massage natural ingredients/Green Tea into your skin. Results are achieved by getting your product down into the lower skin, or dermis, where there is cellular rejuvenation.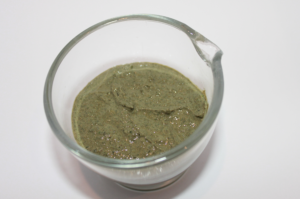 At home you can also try out our Eva Longoria Green Tea Clay Mask as featured in US Weekly Magazine!
Eva Longoria Green Tea Clay Mask
Ingredients:
1 Tbsp+2 Tsp Pure Aloe Whole Leaf Certified Organic (liquid) (Lakewood Organic Fresh Pressed) or mix with Purified Water
1 Tbsp Indian Healing Clay (Aztec Secret)
2 Tsp Organic TeaHouse Matcha Green Tea (powdered) (Rishi) or mix with Powdered Green Tea
1 Tsp Manuka Honey 100% Certified Raw (Bio Active 10+) or mix with Raw Honey
1 Tsp Greek Strained Yogurt 0% Fat (Fage) or mix with Greek Yogurt 0% (unless skin is dry, then mix with Plain Greek Yogurt)
Kitchen Appliances:
Measuring Spoon 1 oz Bowl
4 oz Bowl Spatula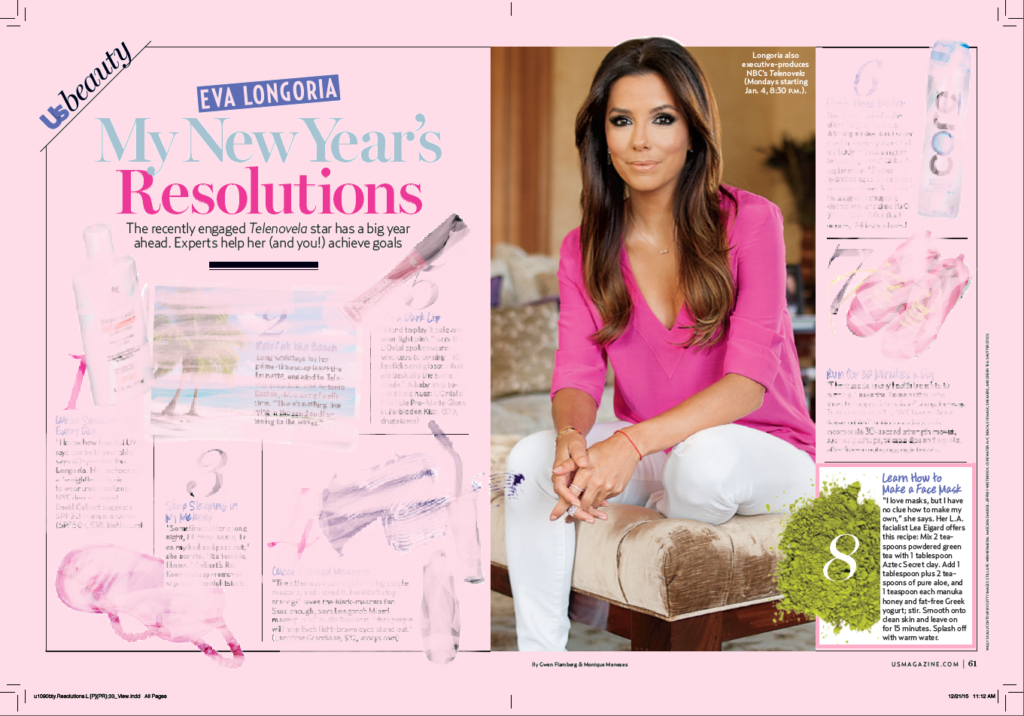 Directions:
Dry Ingredients:
1. Take Indian Healing Clay and powdered Matcha Organic Green Tea and mix in 4 oz bowl. Set aside.
Wet ingredients:
3. In a 1 oz bowl blend Manuka Honey and Greek Yogurt. Mix then set aside.
4. Take 4 oz bowl and blend Indian Healing Clay with Organic Matcha Green Tea.
5. Add Liquid Aloe or purified water to dry mixture and mix until smooth and creamy.
6. Add Manuka Honey and Greek Yogurt mixture to the Healing Clay, Green Tea and Aloe mixture and blend all together.

Face Mask:
1. Apply over clean face, neck and décolleté. Work in well. (If desired, place second, thicker layer on top).
Leave a Comment
You must be logged in to post a comment.