Today, ladies and gentlemen we are going to reveal to you what makes us so special! The reason we have the name Lea Advanced Skincare. What makes us the most advanced skincare in Beverly Hills, and why categorizing us as 'advanced' is so fitting. We have everything you need in a skincare treatment, and the answers to solve your skincare concerns. We believe we are one of the few skin care specialists in Beverly Hills who caters every aspect of the facial to our patients concerns and needs, as well as a customized at home skin regiment. Our motto here at Lea Advanced Skincare is "never assume anything", which makes us equipped with the answers to solve all of your problems!
Here at Lea Advanced Skincare we are firm believers in growing education. In our ever- expanding field of aesthetics there are constant changes and new modalities, which is why education is the key to an advanced skincare treatment. Especially in an area as competitive as Beverly Hills, staying on top of the new skincare trends is always a must. With all the trends in this town, providing the proper information for our patients is beyond important. Besides for our advanced facial technique, and treatment we here at Lea Advanced Skincare also provide advanced education. We teach our patients about proper facial muscle exercises to keep their skin tight and tone. As well as educating our patients about proper diet to keep their skin acne free! We know how to read a face, and in turn provide advanced education for our patients to be both preventative and informative!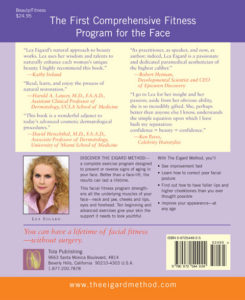 Our very own Lea Eigard even has a book called "Lifetime Facial Fitness without Plastic Surgery" that provides our patients with education and exercises on toning and tightening the face. It even shares helpful tips on simple topics our patients often are unaware of. For example there is even a chapter about how to properly cleanse your face! Every new patient in our office receives a welcoming kit that also provides education about nutrition and different foods that can be acne triggers. We are constantly educating our patients on proper internal and external care for their skin. We truly believe that we provide the single most advanced and effective guide to surgery-free, ageless beauty, ever! As some of our celebrity colleagues say "Read, Learn, and enjoy the process of natural restoration" (Dr. Harold A. Lancer), "Lea Eigards natural approach to beauty works" (Kathy Ireland), "I go to Lea for her insight and her passion" (Ken Paves). It is comments like this that make us positive we provide the most advanced skincare treatments.
From acne prone skin, to wrinkled and sun damaged, we have an advanced skincare treatment ready to cater to your needs. We have an endless verity of modalities, and advanced product knowledge. If there is not a product available to reverse your skincare concern then our expert Lea will make one for you. Lea Eigard is part of what makes us so advanced. Not only is her expertise in skin beyond advance, but she is also an expert in concoctioning the perfect product for your skin concerns. Her technique and expertise is handed down to every aesthetician that steps foot in our spa! Providing the most advanced skincare treatment in Beverly Hills is what we are trained to do!
Leave a Comment
You must be logged in to post a comment.