Can you briefly walk us through your story – how you started and how you got to where you are today. You can include as little or as much detail as you'd like.
Some of my earliest memories are of my parents' beauty salon in Northern California and their dedication to it. When I was old enough they recruited me to answer phones and serve coffee to their preening clientele.
I moved on thereafter and trained as a ballerina and spent most of my teenage years dancing in the Pacific Ballet in San Francisco until 1969 when my father and I laid my mother, a victim of cancer, to rest. She was only 49 years old.
It gave me great comfort and joy to join my father afterwards to work at their salon and it was an honor to pick up where she had left off; helping people look beautiful and feel good.
Time passed, the hurt went away and I could feel the gap in my heart left by my mother's passing start to fade when my father was also diagnosed with cancer in 1975. To combat the disease he adopted what is now known as a Paleolithic diet consisting of mostly meat, fruit and vegetables–with no grains, milk or milk products. The diet sent the cancer into remission and ultimately extended his life by more than 5 years. Watching my father overcome such terrible odds simply by taking care of his body was a revelation. I was spellbound by the transformative power of diet and exercise, which in turn prompted me to learn everything I could about health, nutrition and human physiology. In the meantime, my dad's self treatment was so successful his doctors told him he would outlive his cancer, but old habits proved too hard to break. He resumed his poor eating habits and in 1982, within nine months of abandoning his dietary regimen, the cancer claimed his life.
I was devastated. Soon the scars that were weathering my soul began showing on my face. I was aging prematurely; the stress, sleepless nights and grueling days were all piling on top of each other on top of me. To top it off shortly after the loss of my father I was delivered with brutal divorce proceedings that left me in debt and outdoors. If not for the generosity of my friends I would never have landed back on my feet. From there I went on a journey that led me to Los Angeles where I began working beside some of the very best dermatologists in the business.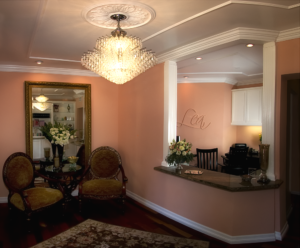 Beverly Hills is, and was, perhaps the largest concentric circle of stretched, stitched and sutured faces in the world. As a paramedical aesthetician I had seen enough badly botched face-lifts to know that cosmetic surgery was not for me. That was when I really began to develop what was to become The Eigard Method, a carefully designed facial fitness program that would re-educate and restructure the muscles in the face,
Cultivating this idea, researching it, practicing and documenting the exercises helped me through the most difficult time in my life. It restored my youthful appearance and pouring myself into its development after experiencing so much emotional pain felt good. The inspiration for The Eigard Method certainly seemed divine considering my parents' dedication to the beauty industry.
I have spent the last 35 years of my life developing my theory into a discipline, very often exploring the benefits of the program with my many high-profile celebrity clientele who frequent my Beverly Hills salon, where I can usually be found. I love customizing and tailoring each of my facials and treatments to the individual needs of each and every one of my clients and I teach all my estheticians to do the same.
Most recently I am in pre-production for my Eigard Essentials skincare line made with organic and all-natural, wholesome ingredients free of toxins and chemicals. A line I began developing in 1985, but put aside due to my divorce. It's been a labor of love for the last 15? years that follows through the same ideology as The Eigard Method: healthy and natural.
To this day I continue my parents' practice of helping people look beautiful and feel good.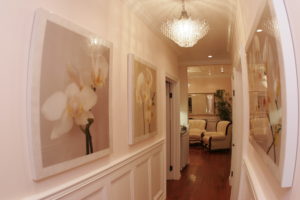 Obstacles/Challenges: Has it been a smooth road? If not, what were some of the struggles along the way?
We have struggles every day! When you look for excellence and perfection you will always have a challenge before you. You need to bring things in at cost while making it reasonable for the consumer, but still maintain the integrity and quality of your product or service.
The other big struggle is having people really see the importance of your vision. As you now know my family has been plagued with cancer, even up to the loss of my older brother a few years back. I cannot compromise with anything that I create for the nourishing and health of the skin; everything has to be as pure as possible. Other companies and people do not quite understand why you can't put in all these chemicals; they don't see the harm.
I want to be the first in skincare to deal with a completely clean, eco-friendly, super nutritious product with no toxins or chemicals. It's the same with when I created the book. I knew these exercises weren't easy, but having been a dancer I understand that building muscle from the foundation up is of utmost importance. When people finally learn it and understand it they experience soreness in the face and neck. This always takes a while to achieve because everyone wants something quick and easy. But this doesn't happen when you're really looking for excellence.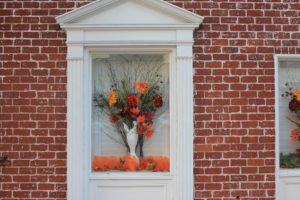 In my skincare practice we also want treatments that work and get results. We are not going to cut corners. We look for excellence in our products and procedures. Whatever I do there will be results. Immediate results from my skincare line, lasting results from my book and procedures. At whatever cost we achieve what the client wants to the utmost of our abilities.
We build a foundation. Nowadays people want quick and easy. They want fast food. People have lost respect for long term and hard work, but this is still our aim. We're old school.
Our Mission is:
-Client Education
-Client Empowerment through education and incorporation of The Eigard Method in their lifestyles
-Individualization and Customization in all of our EMrx treatments–a reinvention and revolutionized facial
-Continual Research and Development on our part keeps us at the forefront of cosmetic dermatology
-"I go to Lea for her insight and her passion; aside from her obvious ability, she is so incredibly gifted. She, perhaps better than anyone else I know, understands the simple equation upon which I have built my reputation: confidence= beauty= confidence." -Ken Paves, Celebrity Hairstylist
-Staff Support, Dedication and Accessibility promotes team effort between Lea and her clients
-Client Satisfaction
We value:
-Integrity, tenacity and excellence in all that we pursue
-Innovation and creativity is a part of all aspects of our business as a means of enriching people's lives and attaining and maintaining a competitive edge
-Ethical and moral conduct at all times
-Respect for client confidentiality
-Trust in the Lord's guidance in all our endeavors, personally and professionally
Lea's The Eigard Method is where science engages luxury and beauty is more than skin deep!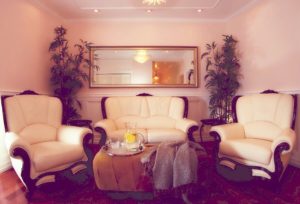 About Our Business: Tell us about your business/company. What do you do, what do you specialize in, what are you known for, etc. What are you most proud of as a company? What sets you apart from others?
We are a skincare clinic that specialize in acneic treatments. We clean and clear out breakouts and educate our clients on their diet and appropriate topical products to use. Once the acne is cleared up we work to reduce or remove the scars and resurface the skin, We take our clients' skin from A to Z. From extractions to panel lights, microdermabrasions and chem peels. We also deal with melasma and discoloration of the skin. Through topicals and specially customized peels. Our other specialty is in creating treatments. Our Red Carpet Treatment is a big success. It tightens, lifts and tones with no downtime so you're red carpet ready to go! That doesn't mean we don't deal with other types of problem skin. Everyone receives custom treatments (based on clinical evaluation) tailored to their needs and concerns so they leave with great results.
The Eigard Method is a complete reinvention of the traditional facial. It is a lifestyle and facial fitness program that prevents and/or reverses the signs of aging. My book, the Eigard Method: Lifetime Facial Fitness without Plastic Surgery visually guides readers through a series of facial exercises engineered to increase circulation and isolate, reeducate, restructure and reshape individual muscles or muscle groups to lift and revitalize facial muscles, restoring youthful facial architecture.
Eigard Essentials works in tandem with the exercises and treatments. Everything is natural and wholesome and works as nature intended to create beautiful, healthy skin.
I believe that success lies in the deep passion of the soul. True success is being able to go home at the end of the day and know you did a job well done. Whatever it takes, stay true to your ideology. Business set on a strong foundation will build upward and all the side dressings will follow: money, fame and power surrounded by kindness, compassion and integrity.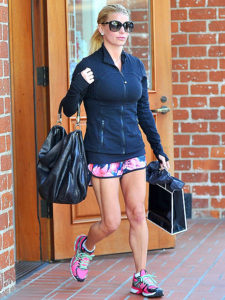 Industry Outlook in the Next 5-10 Years: Where do you see your industry going over the next 5-10 years? Any big shifts, changes, trends, etc?
Absolutely there are exciting changes coming to the industry! It mesmerizes me to be standing at the cusp of it. The industry is moving forward into the future through the advancement of technology with equipment and the discovery of nutritional ingredients vs. chemicals in today's skincare products. Here at Lea Advanced Skincare, I am definitely at the forefront of this new wave. Today, more than ever, people are worried about cancer and other degenerative diseases and they are fighting back by trying to incorporate healthier lifestyles and products into their everyday living. They want natural, organic, non-toxic products, foods, clothing and stress reduced lifestyles. I can't compromise on this ideology. I have been working on a new skincare product for years that will be totally free of all chemicals. It is completely natural, organic and highly nutritious without ingredient break down. It will be like eating a wholesome meal, but instead of the usual way you'll get the nutrients via osmosis through the outer skin. And your skin, being the largest organ of the body, must receive healthy ingredients. There are other skincare lines that are starting to pick up this trend, but not completely. There are a lot of lines that say they are natural and are even FDA-approved, but if you look through their ingredients the base products are filled with chemical preservatives and ingredients, some of which contain toxic elements. They don't realize the harm in adding these chemicals to their products. We are the only ones with a completely natural, non-toxic and chemical free skincare line with no chemical preservatives.
Right now estheticians have a lot of collaboration with dermatologists and plastic surgeons where we work together to achieve greater results for clients. There have also been great advancements in things like LED's and microdermabrasions, but the wave of the future in esthetics is achieving even better results with no downtime. I look forward to equipment that would combine in the hand piece a combination working head of non-ablative laser modality and LED myolight therapy. We are just at the tip of the iceberg now. Salon owners or business owners who are savvy in the esthetic business will empower their clients by pressing on them knowledge about skin care and ingredients so that they can be wise consumers when they go out. Estheticians starting out who really want to be on the cutting edge of the future of skincare will seek out apprenticeships under owners who are going in that direction.
Leave a Comment
You must be logged in to post a comment.