Compared to all of the other skincare routines, exfoliation is a must! It preps the skin for absorption of serums and products and reduces fine lines and wrinkles. Exfoliation also decreases discoloration and gives the skin a soft, smooth and firm texture for a healthy glow. For those 25 and under, use mild exfoliates like glycolics, salicylics and retinoids (Retin-a), and ultrasonic or mild microdermabrasion treatments. These will keep the skin clear by reducing breakouts and oily buildup.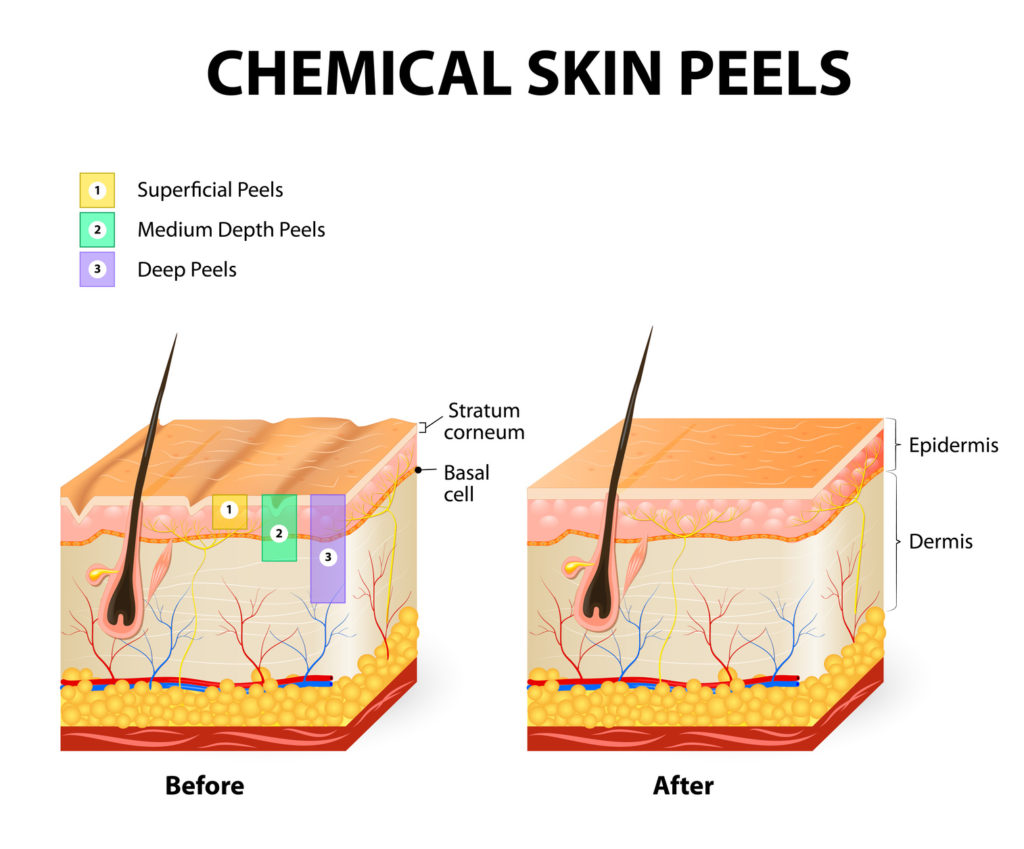 After twenty-five, cellular activity enters into the process of deterioration. At this point exfoliation needs to be taken to a whole new level called "Survival Mode". Create a skincare routine with monthly microdermabrasion treatments, two or three chemical peels a year and biweekly facials with ultrasonic. As part of the anti-aging routine also use glycolic and retinoid (Retin-a) at home. Don't forget to use a facial scrub once a week to remove the buildup of dead cells from the other exfoliates and to maintain that radiance. Father Time has no grip on us. Sixty is the new forty!
Home Care Products:
Anti-Aging Skin – Glycolic acids (AHA) remove sticky cellular buildup from the surface of the skin and retinoids (Retin-a) effectively reaccelerate cell growth and generate collagen. They work deep under the skin to create lasting results, reducing fine lines and wrinkles and creating firmer skin. When using any strong exfoliate the skin will become hypersensitive so avoid direct sunlight, even when wearing sun block.
Over-Active Skin – Glycolics, salicylics and retinoids (Retin-a) help reduce the oiliness and thickness of skin to allow blemishes to come out easily resulting in clear, smooth skin. Remember to avoid the sun and wear sunscreen.
Scrubs – Apply once a week only after cleansing, working it in gently with hands or a brush in circular motions. Overuse of "friction exfoliates" (scrubs) can cause an enlargement of follicles (pores), but used correctly this is a simple way to keep skin looking fresh.
Mud Masques – These are used to remove impurities (blackheads) and buildup of dead cells (keratinized) from the skin. After application, the skin is prepped to receive all the rich nutrients that will keep it clear, soft and glowing. Be sure to work it in well once or twice a week and let dry before washing off. Some mud products can also be used as a spot treatment to clear acne breakouts before bed. Our clients particularly love the mud masque we carry and refer to it as "Magic Mud!"
Professional Care Products/ Equipment
Enzymatic/Chemical Peels –For a light freshening of the skin an enzymatic peel will have no downtime and leave the skin with that healthy, fresh look. It removes the buildup of keratinized cells, prepping the skin for other modalities.
Chemical Peel Treatment – This treatment sheds skin literally, meaning a couple weeks of downtime is needed. After the initial peeling is over, there will still be redness and light flaking. Results are worth the wait though for firmer skin, softening of wrinkles and light scars, the removal of fine lines, skin discoloration (hyper-pigmentation) and sun damage. An added boost is the renewal of collagen production, leaving the skin plump and moist in appearance. At Lea Advanced Skincare, all treatments are performed with the highest level of professionalism and technique by keeping the integrity of the skin intact throughout the whole process. This adds up to a safe and effective finish.

Microdermabrasion Facial – This is one of the most popular treatments today because it has great results without downtime. Through rapid exfoliation of the outer cells layers, collagen, elastin and fibroblast cells are regenerated.

Ultrasonic Cleansing – A gentle, professional exfoliation, it is truly the star of thorough deep tissue cleansing. It removes oil build up and dead cell accumulation and bacteria from deep within pores through ultrasonic waves. It also provides hydration, lymphatic drainage stimulation and energy to skin cells so that they can better absorb nutrients. Finally, it heightens cellular rejuvenation without causing irritation.
Lea Advanced Skincare
417 N Camden Dr.
Beverly Hills, CA 90210
(310) 278-2221
[email protected]
Leave a Comment
You must be logged in to post a comment.